To respond to an ad, simply click on the underlined, capitalized title, and you will initiate email to the poster.
NOTICE!
This page is by and for falconers. While some things may offend some readers, those opposed to falconry practices need not continue to read or respond.
POSTS
(last updated 6/1/97)
---
QUAIL AVAILABLE: Mature quail weighing between 5.5 and 10 ounces are available, at $1.20 each plus shipping. Day-olds also available, at 50 cents each. These birds are raised on wire for our own falconry birds. Many vendors ship their quail at 4-5 weeks of age, immature and smaller. By feeding them the extra 2-3 weeks, we're able to provide these larger, more nutritious birds. Prices may be SLIGHTLY higher than other vendors, but we've found raising them this extra time really does make a difference.
---
IN SEARCH OF USED TELEMETRY EQUIPMENT: I am in search of good used telemetry equipment. I would like to purchase a receiver and antenna, but will purchase my own transmitters separatly. If you have equipment for sale or know of anyone who does, please contact me at: Roger Rouire (H) 204-878-9093 write me at Box 803; Ile des Chenes, Manitoba; Canada R0A 0T0 EDITOR'S NOTE: Or just click on the "IN SEARCH OF" to email Roger.
---
HARRIS' HAWK and SAKERETTE AVAILABLE: I have a female harris' hawk, proven gamehawk, but not working out for my breeding project. She's about 5 years old, hasn't laid any eggs yet. VERY nice bird, no bad vices. Offering her for sale or possible trade, price negotiable. Also, a dark-phase sakerette, reasonable bird, flown some, but obtained at a t time when I had too many birds. This tiercel is chamber-raised, of 1996 clutch, would make a fine natural breeder, and it quite tractable. Asking $700 or trade for an imprint eyass longwing or accipiter. All possibilities considered on either of these birds.
---
Bells by Larry Counce: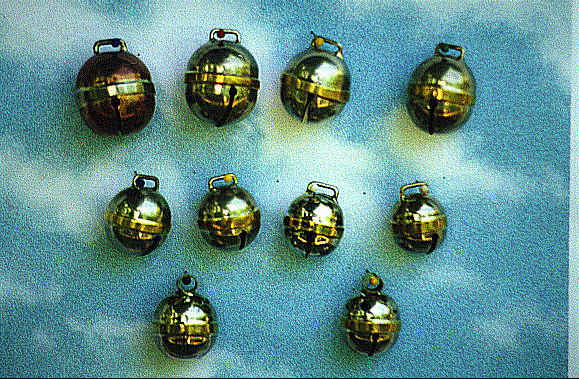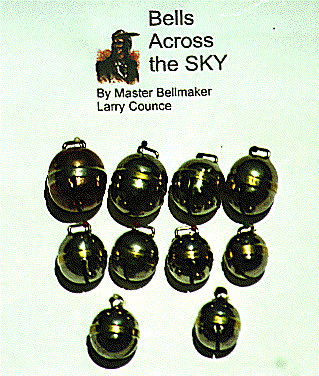 The FBB editor first came across these bells at the NAFA meet in Amarillo, TX, a couple of years ago. They're some of the best he's seen since Pete Asborno's, and at $10 a pair, they're quite a bargain. FBB is happy to provide Larry with this free advertisement from him:

Bells are equator-reinforced butt joints, nickel silver with brass equator, price is $10 per pair, plus $2 P&H, the bottom two bells in the picture on the right are tail mount style, and cost $5.00 per bell. Please include what species of raptor you want the bells for in your email. Thank you!
---
Wanted: Imprint Female Kestrels for Breeding Project. Click on the above line if you know of one available. Thanks!
---
Click here to submit a post. Thank you!