- WARNING! -
This link does NOT contain explicitly sexual material.
I believe what any consenting individual (including a President) does with their body (including what's between their legs) is none of anyone else's business.
STAY OUT OF OTHER PEOPLE'S BEDROOMS!
If you're considering being in MY bedroom, ask me, I'll tell ya.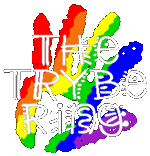 ~ Next ~ Skip ~ Next 5 ~
John Taylor is a member of the Trybe .
If you happened to get here via a link, Click here to go to my homepage