M E L I S S A

E T H E R I D G E
My tribute to the First Lady of Music
I had the great, albeit brief, pleasure of meeting this living legend in the mid-eighties, between the release of her first and second albums. She was living about half a block from me, and they were having a garage sale. It is common for people who work for record labels to get some stock to sell to the L.A. music stores - I guess it's some kind of perk. So when I saw the small stack of her first album there at the garage sale, I assumed someone in the household worked for Island, which is just a few blocks above where we both used to live. Not even in my wildest dreams did I expect to meet the songwriter who I'd admired so much.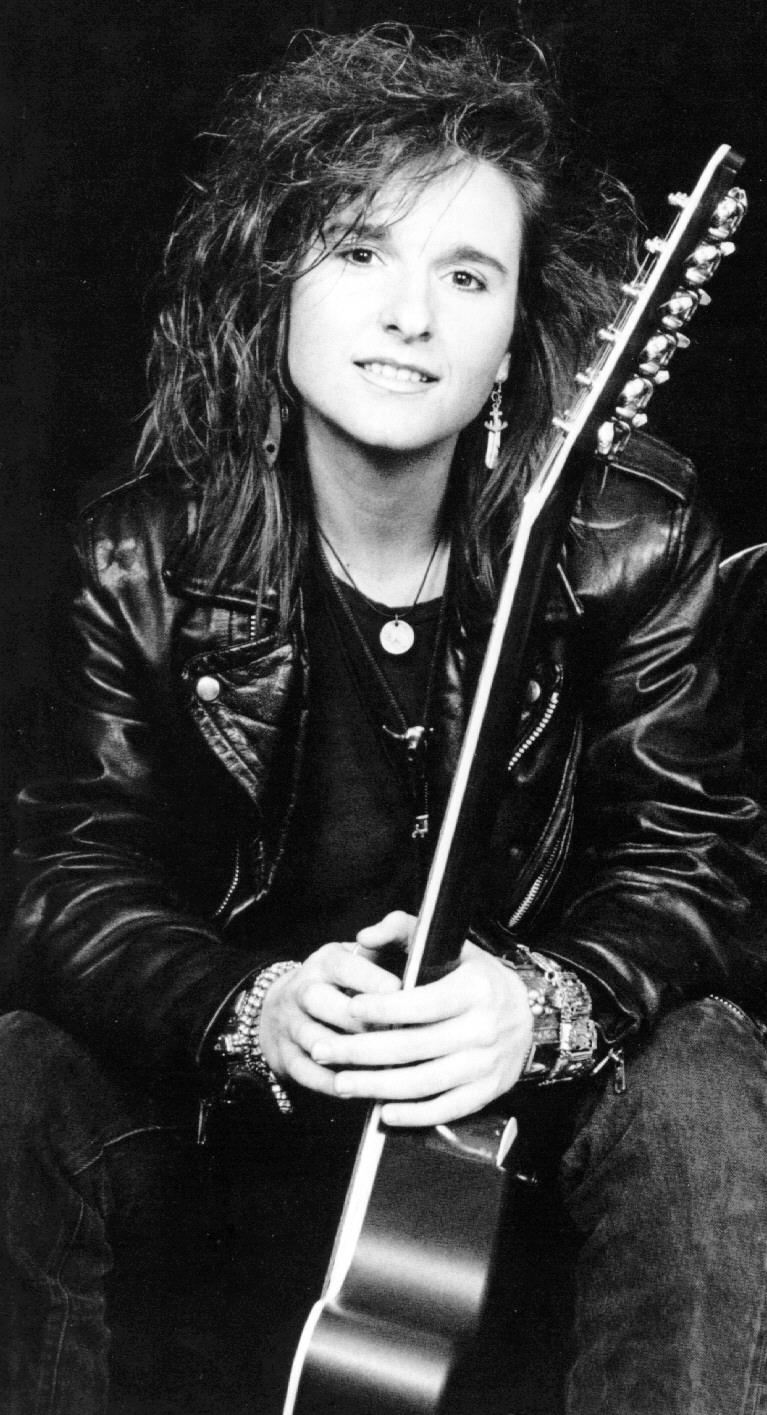 "You work for Label, or just a big fan," I asked, gesturing towards the vinyl.
"Oh, that's my roommate," the woman replied, gesturing to the vertically challenged woman over to our left.
There she was - Melissa Etheridge. I couldn't believe it! I was in shock, and desperately trying to recover. I'd been writing since my adolescence, and was seldom impressed by contemporary music. Melissa was one of the very few living writers of my time who I admired. I'd met Harry Chapin, played with him and others, never been star struck before in my life. What would I say? I knew celebrities like her didn't like being made into something they're not, but... My mind was racing. It was such a rush, yet the part of me that wanted the contract and contacts she had wanted to show off as well. Mind wallowing in the quagmire, the best I could come up with was "Oh, I've heard of you." Lame? No, far beyond lame, made all the worse by that I prided myself for being a wordsmith.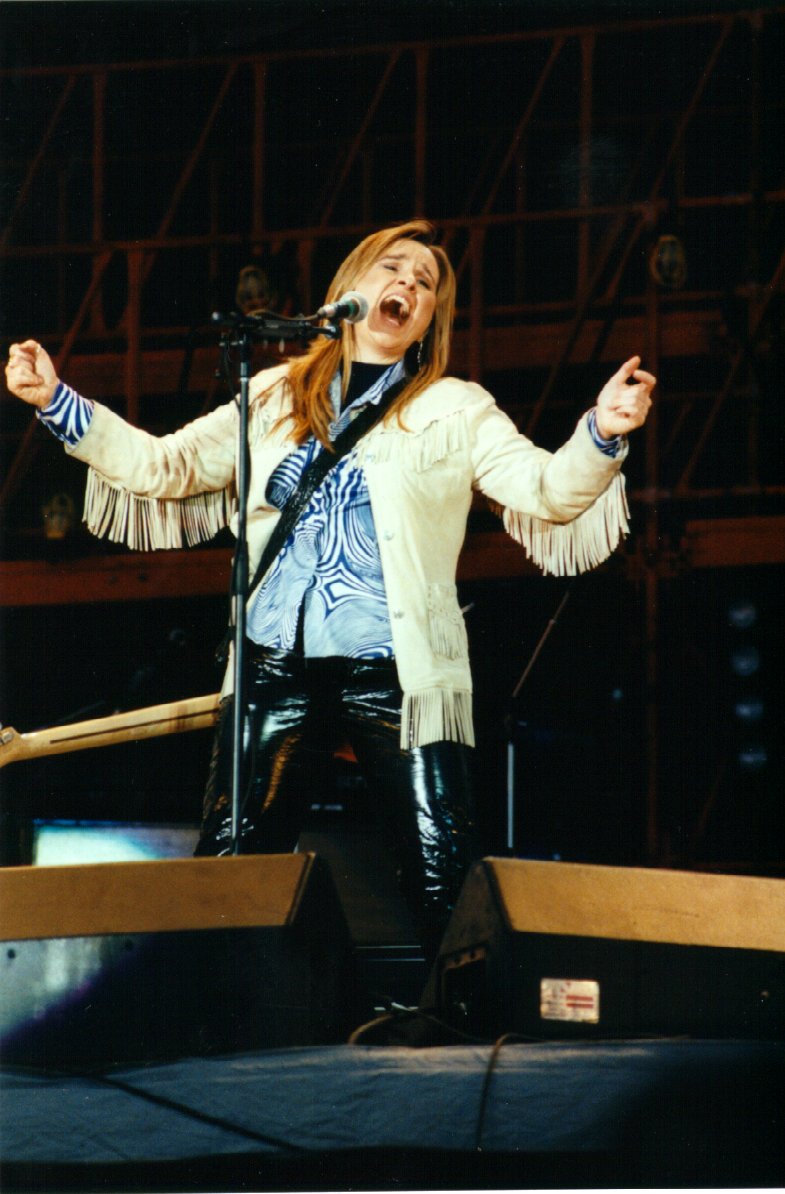 "Why thank you," she said unassumingly, letting me off the hook. I'd certainly HOPE I'd heard of the Grammy winner and best new female vocalist of the year.
"I write and play," I offered. "Would you mind listening to some of my tunes?"
"Well, there's really not much I can do for ya," she said, probably pitying me and remembering how many doors had been slammed shut in her face, "and we're kinda busy moving just now..."
My heart sank and I guess my eyes must have shown it.
"Just one tune," I said, falling back on feigned confidence as only a male can do, "It won't take long."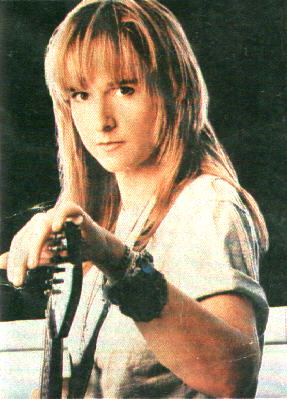 "Okay," she said.
Now I was in trouble. Deep and serious trouble. Sure, I could play. And I could sing. And I could write. But I was in a phase where I was trying to ditch my soft, mushy, romantic "country-without-a-twang" image. Inside, my mind was racing through the songlist while I tried to keep the outer appearance of being in control. She invited me to use one of the three Ovations there in the bare living room. "Pick any of 'em, they're all the same." Not only were they moving, they were just about moved out! I sat there in her living room, realizing how incredibly poor my timing was, all the more uncomfortable for being a bother. But, I convinced myself, this chance might never come again. I remember telling myself to quit finding excuses and just do it. I don't know if Melissa had any idea just how fragmented my thoughts were about that time.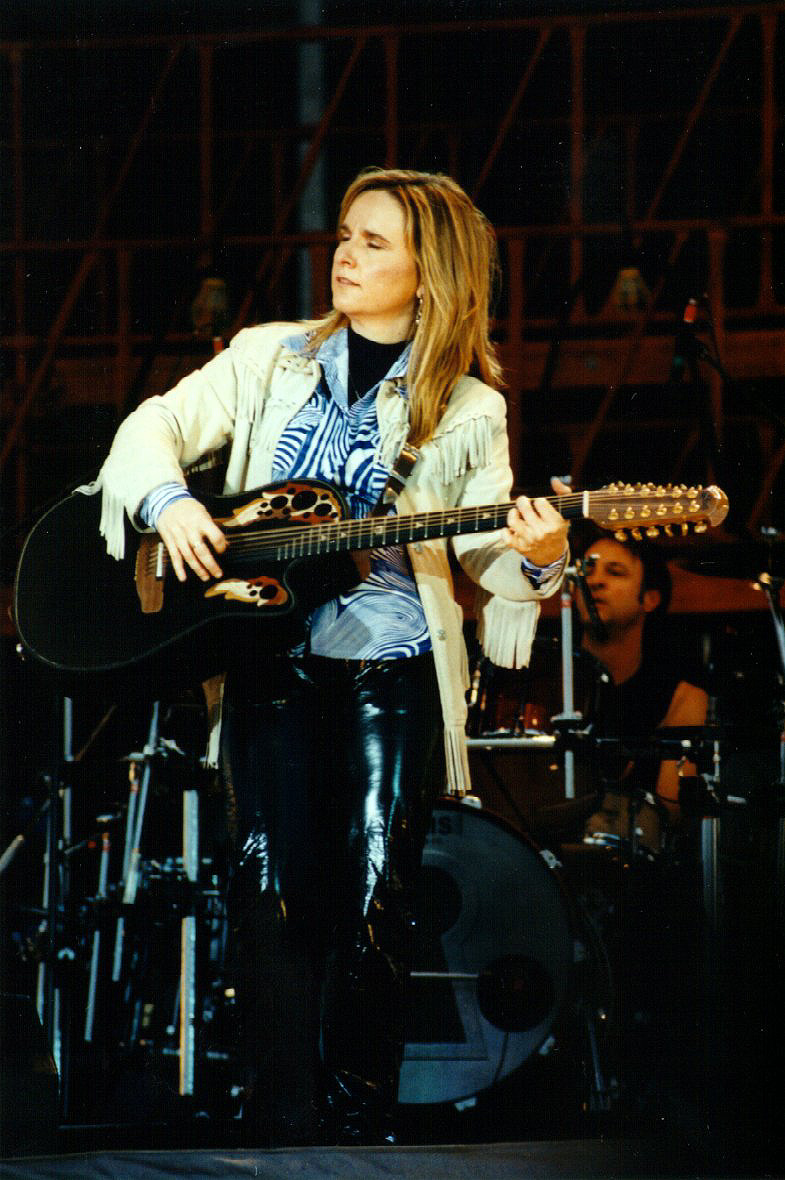 A decade later, I really can't remember what song it was I played for her. I remember that it was hardly one of my best pieces, and I remember picking it because I thought it was one of my higher-energy songs and because it was one of the new ones. I probably still play the song on occassion in public, but it's certainly not one of the ones I'd put on an album.
As I started picking the intro pattern on her guitar, I was pleasantly surprised to feel how far Ovations had come since last I'd played one. She complimented me on my playing, apparently surprised to find I could actually play and had no problem with the guitar having 12 strings. I also remember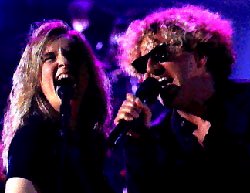 realizing how suicidal it was for me to sing without warming up for at least a few minutes. But the only time I knew I'd have was then, so play I did. Probably botched up the lyrics, and I KNOW my voice was in poor form. As I recall, there wasn't anything particularly powerful about that song's refrain either. Halfway through the song, I noticed I'd lost her. When I was finished, she was quite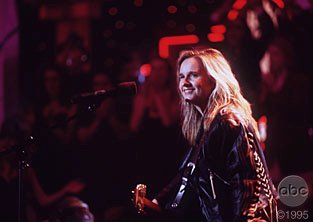 polite, and encouraged me to keep at it. Not willing to leave that as a final impression, I asked for an address to send a tape to. She gave me her manager's address, telling me to send it there and that he would forward it to her. I never have. Somehow, every time I thought of doing so, I'd guage my songs against this incredible songwriter and pale so badly in comparison, I saw no point in bothering. A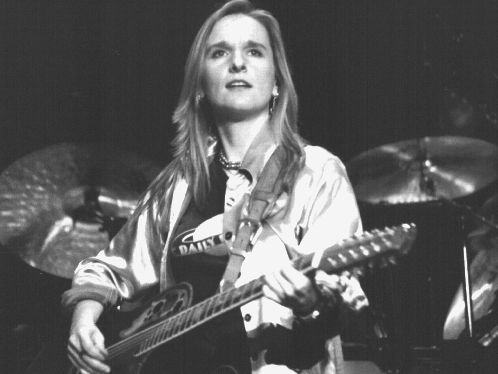 decade later, I'm finally ready to do so, and hope the tape will still be able to find its way to her.
What Melissa probably doesn't know is that her grace in that uncomfortable situation taught me alot. She probably also doesn't know it was me who'd pull out his guitar at the parking lot across the street from her old house, sit in the back of my pickup with a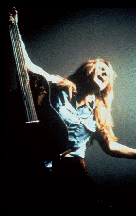 bunch of friends while they sat mesmerized, listening to my tunes, and hers. She probably wasn't around when I sat across the street in the hardware store's parking structure and sang "No Souvenirs," and "Occasionally," and "Baby, You Can Sleep While I Drive," and "You Used To Love To Dance." But other people were. I played, they listened, we all shared in the beauty and power, the tenderness and vulnerability, the soulful music of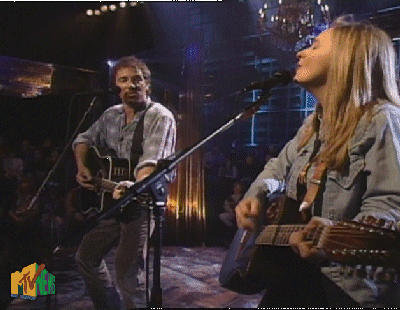 Melissa Etheridge. As one of her songs says, "I will never be the same."
Now ME has 5 albums out, has been on national magazines and television, and is known the world over. When I met her, she had only released her first album. "Brave & Crazy" was probably just done being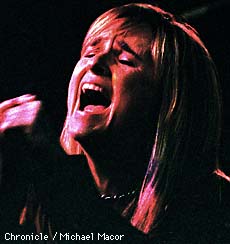 tracked. Since then, I've seen her in concert in Chicago, Los Angeles (first at the Wiltern, and then years later at the Universal Amplitheatre,) and St. Louis. I have always brought friends and her dynamic, charged performances have always made believers out of them, just as she made a believer of me so many years ago. It's been a long road to the success she now enjoys, and she's worked hard, deserves every bit of it.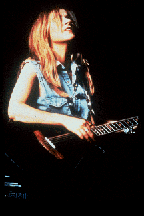 You've probably heard her music on the radio, even if you didn't recognize the name. If you've never heard an entire album of her tunes, go get yourself one. Or save yourself the trips later and just buy all five now. Once you've heard one, you're sure to want the rest. Then kick back in a comfortable couch with some private time to yourself. Be prepared to laugh, cry, remember, feel.
She's said in concerts "If you're here, you're either in a relationship or just got out of one." That's what her songs are about. People, relationships, feeling...
I can still hear her unique voice saying "People always ask me, 'Meliss, why are you always so sad?' I tell 'em 'I'm not sad, I've just been out there livin' and feelin' and talkin' about it. You
gotta talk about it, cause otherwise it just stays inside and _grows_, and that's no good. Cause then pretty soon there's just it and you, this thing I call the Precious Pain..."
Music does this amazing thing: It allows words to sidestep our head and all of its defensive mechanisms and go right on to our heart. Few have ever been so apt at catching the essence of our emotions - human emotions. Whether she's singing about unrequited love, love lost, love found, or love betrayed, she's always a poignant poet and, like all truly great artists, bares her soul and, becoming a mirror, holds the heights and depths up for us to see in that mirror. Some of her songs will make you laugh, some will make you want to sing, some will cause you to think, some will bring you to tears, some will make your feet insist that you dance. All will ask you to examine yourself and your place in the world around you, and to feel.
Over the past decade, her followers have grown to the millions. I heartily encourage you to join those ranks. You will never be the same again.
While not a political activist, Melissa has been involved in a handful of issues since she upstaged President Clinton's first Innogural Party by casually announcing that she was, and had always been a lesbian. That same election, she was involved in the Rock The Vote campaign on a popular music video cable channel. The first openly lesbian pop singer, her relationship with video director Julie Cypher (Lou Diamond Phillips' ex) has been widely talked about in the media. Julie is now expecting a child, which they'll raise as the couple they are. Touring these past three years has taken quite a toll on her, and Melissa and Julie look forward to taking some time off from the road to enjoy each other's company, spend time with their new baby, and begin working on a new Janis Joplin film which Melissa will star in, singing her own songs.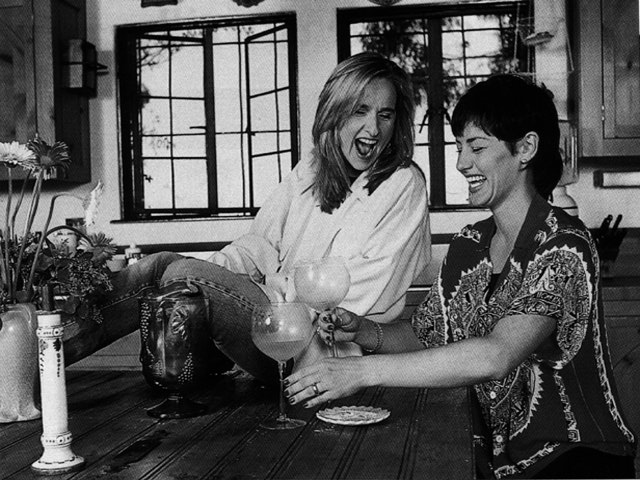 Melissa and her partner, Julie Cypher, at home. Julie is expecting their first child in January, '97
This film will hardly be Melissa's first exposure to the film industry. She did nearly the entire soundtrack to the film "Where the Day Takes You," and had a song in "Boys On The Side," just to name two.
Check back here for more information on Melissa, and links to other Melissa Etheridge sites. For a less personal/editorial view of this tremendous singer/songwriter, go to my Links area and visit Royal Station.